Cappadocia Balloon ride
90-95% of people travel to Cappadocia for one and only reason, which is none other than a Hot Air Balloon Ride! Certainly many questions come to mind, such as…Which season should I travel? Which is the best price? Which company should I pick? How long in advance should I book tickets? What should I be wearing? And many more. Don't rush! It is still early. Through this article you will learn everything in order to make the best choice and have a unique experience…which for us was meant to be a "life experience".
Nothing compares to a Balloon Ride in Cappadocia
A few words
But what makes the balloon ride in Cappadocia so magical? In reality, it is three things. a) The interesting valleys, which are dressed with unusual geological formations, which are a result of a volcanic eruption, b) the incredible colors of the east and c) the other balloons! Without these elements, the scenery would be substandard.
---
The best periods
The best periods for a balloon ride in Cappadocia (as well as to get to know the area) are mid-April or early October. During these periods there are not too many people, the weather is nice and prices at accommodation sites are slightly lower.
---
How long in advance should I book
You are on a very important chapter. Many think that if they search one week earlier they might find bargains and lower prices. Others think that they will go to Cappadocia and there will be seats kept and waiting for them…! None of these is the case. We are talking about a world-renowned activity, for which seats are filled as early as four months before the flight (in high season)
Book a seat at least 2-3 months in advance!
---
Difficulties/problems
a) Most companies have a single basket, so people are all crammed together, you get hit on the head by selfie sticks and there is a general unrest for a good spot and a good photograph.
b) The Biggest Problem is whether you are going to fly after all! Yes, you read that right…It is not a rare phenomenon for flights to be cancelled, mainly due to winds. The air balloon is what we call "feather in the wind", so even with force 2 winds it might not go up. Of course you get your money back, but you lose the experience!
c) If the flight is cancelled, the ticket is not transferred to a later date, as all are sold out!
d) This means that after one or more days of cancellation, -maybe- you will find spots only with –not trustworthy- companies that take advantage of the situation and raise the price of the ticket 2-3 times, namely from 350 to 650€ per person!
e) If it is windy, but the balloon manages to go up, then be prepared for a shorter ride (around 30-40 minutes) and at a smaller height (around 200-300m).
---
The companies and the choice
We come to the most difficult and complex part, the company! As this is an increasingly growing activity with high profit, dozens of companies have popped up, which promise a wonderful experience, with safety, comfort etc. But things are not always like this, as:
i) Some companies' balloons take off from spots that are not suitable for flight, due to winds. Thus the ride gets cancelled while the other balloons fly!
ii) Having profit as their main goal, they overcrowd the balloon baskets and so you cannot a) move, b) take the photographs you want, c) enjoy the spectacle.
iii) They do not have the quality and experience necessary to host such an activity.
iv) Problems occur that have to do with wrong bookings, passenger overload in the baskets, pick-up delays, miscommunications and more.
This is why the company you book must have..
a) Experienced and qualified staff.
b) Contemporary Balloons and Baskets.
c) 1-2 spare helium tanks.
d) Inside the big basket, four smaller ones, in which they place a maximum of three persons each. (SOS)
e) Breakfast before the flight and event with champagne and medals after the flight.
f) At least 5-6 years of operation and meeting all safety rules.
Important: With most companies, people inside the basket are crammed. Pay 10-20€ more and book a seat with a higher-quality company!
---
Hot air balloons in Cappadocia: Price and Flights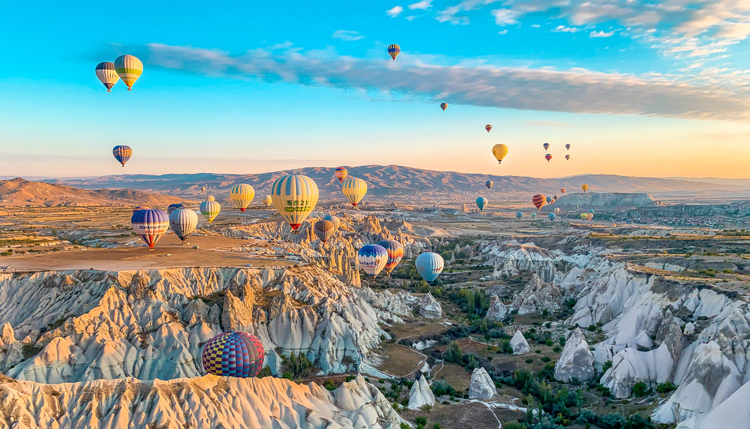 The only certain thing is that it is not a cheap activity, as it starts at 160€ and can go as much as a few thousand Euros!
All companies include in their selection the simple ride (Average number of persons: 20, Average price: 200€, Average duration: 1 hour) and the Advanced ride (Average number of persons: 16, Average price: 230€, Average duration 1¼ hour). Finally, some companies offer prive rides (Average number of persons: 1-4 of your choice, Average price: 3,000-4,000€, Average duration: 1½ hour.
The most VFM flight includes..
? Pick-up – return to the hotel.
? Breakfast buffet.
? Flight during the sunrise, which lasts 1 hour and 15 minutes.
? Only 3 persons per basket (4 small baskets of 3 persons each). This way you have a lot of space to move and enjoy the trip. (Very important  ‼️)
? Reasonable cost: 170€ (for cash payments).
---
Facts and myths
Facts:
✅ The maintenance, flight and entire organization around every balloon has immense cost. This is why the price for the balloons in Cappadocia is so high.
✅ In the battle for a good photograph, a lot of cell-phones, GoPros and cameras fall to the ground!
✅ It is a unique life experience.
✅ There is a chance you will make this trip and not be able to fly due to winds.
Myths:
❌ You can easily take a picture, like the ones taken by big instagrammers/influencers.
❌ The balloons fly every day.
❌ The more you pay, the more you will enjoy the ride.
❌ I don't have to book a ticket. I will find one when I get there.
---
What should I wear on the hot air balloon
The issue of attire is something that troubles most people. It is certain that the last thing you want is to get cold. On the other hand, you don't want to be photographed while dressed like an onion!
? Women: Leggings or tights (since legs are not in frame), a light dress (for good takes), leather jacket and the necessary hair accessory (bow, hair clip, hat, headscarf).
? Men: Jeans, tank top, shirt, vest and a jacket or sweater or hoodie (depending on the season).
You must also know that..
a) The highest temperature is 5-6 degrees lower than on ground level.
b) The balloon's torch releases large amounts of hot air, so it "breaks" the cold of the high altitude.
---
You must
– Have an extra jacket and a neck buff.
– Have a bottle of water
– Book your tickets at least three months in advance.
– Have with you the new GoPro Hero Black 8 for unparalleled takes.
– Have a selfie stick. It is the most useful thing in order to save space.
– Not worry about which side you should be on. The pilot turns the basket so that everybody gets to see.
– Be in a good mood. No matter how cold it is, no matter how many Chinese tourists step on your feet, Enjoy it! It is a unique experience that you will –probably- not have again in your life!
---
Useful information (Tips)
 At large spaces of takeoff and landing, there are ambulances and police cars.
 The cost is higher if you pay with card (either in Euros or in Lira, as you lose the exchange rate). All companies accept cash (only Euros €) for a small discount of 10-20€.
 The best spot is in the front (at the same direction as the pilot), on the left corner. From there you will take the best photographs and have the best view.
 On the balcony there is a medical kit, while the pilot has knowledge of first aid as well as how to handle cases of panic attacks, fear of heights etc.
 The cost of insurance of every balloon is more than 40 million Euros!
 The earlier you book, the more reasonable the prices you find will be.
 If the speed of wind is under 10km/h, then you will fly. With 10 to 12km/h there is a chance you will fly, while with over 12km/h (namely force 3 winds) you will not fly (get informed about the speed of wind)!
 The more days they have not flown because of strong winds, the more their price goes up!
 It is forbidden for anyone who experiences fear of heights. Imagine that you will be in a basket at 1,000m and not have the chance to get off.
 The balloons do not fly every day. There is chance that the whole procedure is completed, the balloon has been inflated and it might not get a flight permit, due to bad weather conditions (mainly because of winds). Imagine how great the cost is for the companies, if this happens for 4-5 days in a row. You, nonetheless, take your money back!
---
What you should keep
? There is always a chance you will not fly (due to winds).
? If you don't fly and you look for tickets for the upcoming days, be prepared to pay 2-3 times more (not with high-quality companies).
? You must book at least 2-3 months in advance.
? Prefer companies with few people per basket in order to enjoy the experience.
? If it is windy, the ride might last for only 30 minutes and the balloon will be flying at low altitude.
? ENJOY IT. It is a UNIQUE once-in-a-lifetime experience!
Cappadocia Balloon ride
---
Do you have any more questions? Write them down in the comments and we will help you out.