Food Barcelona
Food in Barcelona is a subject that is not so easy and cheap, but delicious and enjoyable! As one of Europe's most popular with tourists cities, it obviously has hundreds of restaurants and shops with fast and cheap food.
Barcelona is a Mediterranean city and offers options for all tastes. It produces amazing vegetables, its meats are very noteworthy, while its sea generously provides all kinds of fish.
For a meal at a restaurant, prepare to pay 30 to 50€ per person, with wine. In the city, however, you will also find tons of options for fast and cheap food. At the top are the Tapas and the Pinchos, which you will find in many forms.
Do not leave Barcelona without having tried its traditional products. We start with the famous shrimp, the sardine, the clams, the anchovies, the cod and tuna, which we find in many forms. The small green peppers (they can be fried), the Catalan Fuet sausage, the almonds and the bright red, juicy tomatoes come to bring every dish on another level. Finally, we should mention that as a Mediterranean city, it could not go without extra virgin olive oil.
Some of the local foods you try in Barcelona are the famous Seafood Paella, the Escalivada (mix of cooked vegetables), the refreshing summer Esqueixada salad with salted cod, onion, tomatoes, olives and olive oil, as well as the Empanadas, Tapas and Pinchos for snacks, and the sweet churros! Of course, all of the above can be accompanied by a glass (or better yet a pitcher) of white Sangria! For dessert, you will find the Crema Catalana, which resembles the french Crème Brûlée!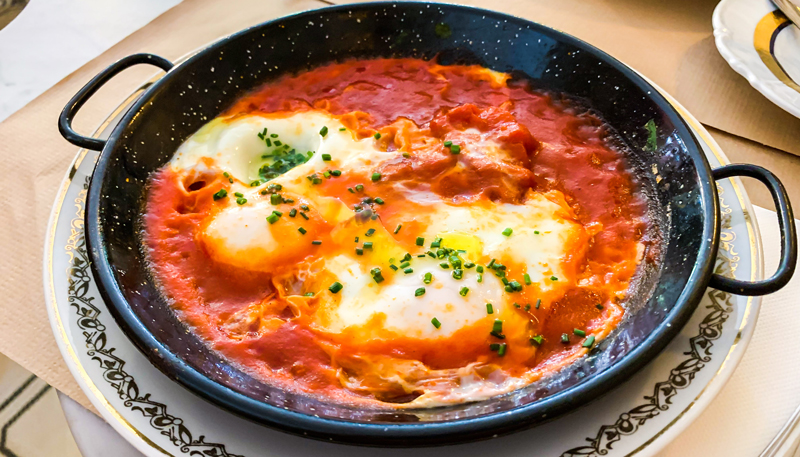 Mini Tips: a) Avoid sitting on touristy streets and squares (especially in the center). People-watching might be enjoyable, but the food is mediocre and prices are high. b) The best and most affordable shops are in the areas of Sants and El Poble-sec. c) The average cost of one serving is 17€! d) In order to find a table on the weekend, you must absolutely have made reservations (either for dining or for drinks).
Check out the restaurants with the best food in Barcelona