Looking at Mount Mitsikeli, from the lake of Ioannina, we simply could not imagine that it hides a small piece of earthly heaven behind it. Pinned on North Pindos' mountains, 47 small and big villages, compete in beauty and lore, making Paroraia (for the older generations), Zagori (for the younger), one of the most enticing destinations in Greece. Due to the location, weather conditions, the famous Vikos Gorge and the rivers, the human factor has not intervened greatly in God's work, but it has certainly helped in the more efficient exploration of the region. Bridges, trails, stairways that used to serve as passages for moving from one village to another, are nowadays purposed as the most picturesque means for one to get lost in nature's magical kingdom.
"The snow-sprinkled Astraka"
An aspect of nature so rich, lively and many times wild that gifted us with unforgettable images, any of the seasons we visited it. But I don't think that I can pick which of them is the most suitable for a trip to Zagorochoria. Maybe during winter, when we wake up and face the snow-sprinkled Astraka, while drinking some hot coffee by the lit fireplace. Or maybe in the summer, so we can wander in the green, sweet-smelling environment, next to the rushing waters and get lost in the outlandish view..? (A few seconds' pause, or maybe even minutes'). The only certainty is that the serene landscape in combination with the birds' chirping, the water flowing and the air blowing, is always ready to take in anyone that wants to relax or escape the wearing daily routine for a while.
The special trait of Zagori's villages is hidden in their architecture and it is something that anyone can notice right from the very first village that they come across. Many of the settlements have been called traditional, with the elements of stone and wood dominating and blending in harmonically with the surroundings. Single or multi-decked, all houses are simple, with plain decoration, while each one has its own yard. They all stand around mesohori, namely the village's square, and are connected through narrow, rough pathways, many of which lead to a dead end. Nowadays, some of them have been turned into inns, taverns and coffee shops, while others have been abandoned. Even though the villages are similar to one another, they can be distinguished through a uniqueness that you can only discover by exploring them.
"A hike among the trails"
There are a lot of ways in which one can knock about Zagorochoria, some easy, some a bit harder, but all of them fun! Extreme sports enthusiasts can explore the area via rafting or kayaking in Voidomatis, mountain or rock climbing and even paragliding. Of course, for those that are faint of heart, a hike among the trails, a horse or bike ride is the best way to get to know the region. What surprised us in a great way is that every route is different. One might take you through stone-built bridges, another one passing by deep canyons, some follow the banks of rivers or lakes, while others lead at balconies with a view or at deserted churches.
Despite the difficulty of the…ascent, the stairway in Vradeto, the Beloi viewpoint and the Panagia monastery in Vikos, are some of the trips that we would take again without second thought. As we would love to play again, like young kids, with the echo above the world's deepest gorge. We would also not miss the chance to dive again into Ovires and the waterfalls, with waters so cold that the heart stops for a few seconds and the body numbs, but then you get out about ten years younger, with a…frozen smile. Is there anything better than natural Botox? Now, for those of you that cannot dive, do not fret, we have another way for you in which you get the same sensation. Just look for the Pelasgika walls in Skamneli. Thank goodness that we met this gorgeous, white dog that, literally, showed us the way, otherwise we would still be up there, uploading photos on Instagram featuring wolves and bears.
"The English breakfast now ranks second on the race"
The villages of Zagori are part of Greece's largest onshore, national park, that's why during your excursions you will meet lots of kinds of flora and fauna. Every step of the way, we were accompanied by turtles, lizards, little squirrels, hedgehogs, snakes and eagles, while the air was fragrant from all the herbs and flowers. Less likely, but not at all impossible, is that you will come across some wild animal, as they avoid approaching humans. That said, you should not be too surprised if, while you are walking along the village's stone-paved alleys, one of them just pops up right in front of you, as they sometimes appear while searching for food.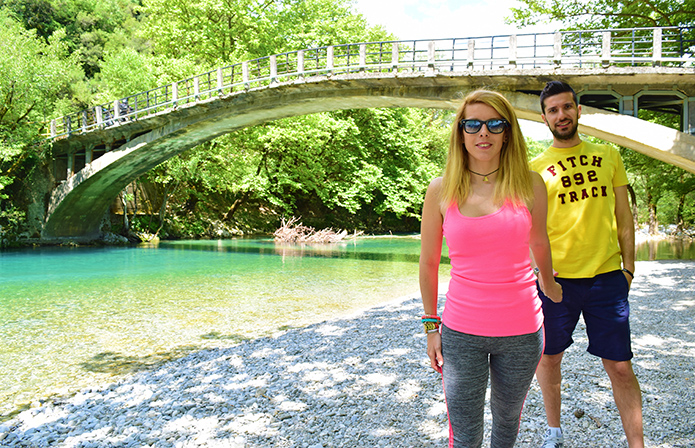 And who can blame them, since the Zagori region is famous for its delicious goods. Home-made, fresh products, local meat and dairy, from producers of the area, daily adorn the Zagorian table. A good and strengthening breakfast with eggs, home-made marmalades, honey, hand-made pies, warm bread, fresh butter, milk, juices and even spoon sweets, gave us more than enough energy to embark on the day's journey. The English breakfast now ranks second on the race! The thing is, we didn't expect to be hungry again during the whole day, after this hearty meal. But all the walking and climbing up and down quickly re-opened our appetite. Possibly because we knew what was waiting for us: a glass of wine along with well-done chops, casserole cooked dishes, spinach pies, wild mushrooms, and even trout, almost alive, for us to gorge on.
"They greeted us with arms wide open"
But no matter how full we felt, not a day went by that we didn't have some tsipouro, with appetizers and some local kefalotyri, hanging out with the locals. One might expect that the residents are distant and leery of visitors, but in every village we visited, they greeted us with arms wide open and they took care of us as if we were old buds. Everyone was willing to clue us in, recount the region's history with pride, share their adventures with us, and even treat us. Despite the visitor traffic from other countries, only a few of them speak English, but they will always find a way to assist you. It is remarkable how much they love the region, nature, as well as their customs and traditions. That's why, especially during the summer months, you will have the chance to attend Epirian festivals, funfairs and events, and even join mountain running races.
The Zagorochoria region is a destination for people of every age, for relaxing or exercising, for some good and delicious food, for getting close to nature and life in the village. It is a place that, no matter the season, fills the visitor with energy, optimism and liveliness. With so many things to do, see and taste, it is very hard to cram them into one weekend. You should probably devote more days into it or visit Zagori again. In any case, don't forget to pack comfortable, warm (if it is winter) clothes, a jacket (even in the summer), sneakers and your camera. So, arm yourselves with good mood, take a deep breath and let the adventure begin!