Cappadocia: A child's dream like a hot-air balloon
(An afternoon at our home, throwing around ideas for the next destination…)
Nikos: So, I got for you a great one, but we will go only if you find it yourself! E: I'm listening…N: (singing) When you are looking from above…the land looks like a painting…especially this piece of land! E: (Thinking…) N: I will help a bit more. The rocks look like matchboxes and the horses look like ants!! E: Stop! I think I got it! N: Yeah, right (laughing)! E: We are going to Cappadocia, huh? N: Now you blew my mind! How did you find it? E: You thought I didn't know Cappadocia is full of volcanic rocks and that its name means "the land of the beautiful horses"? N: Oh, you are good! Ok, so it's settled…Next stop, Cappadocia.
It was a childhood dream of mine to travel to Cappadocia. Every New Year's Day I was waiting for Saint Basil to bring me the presents from Caesarea, while my grandmothers would narrate to me stories of the region's Hellenic heritage. I continued to study it for a long time, learning about its news, watching it grow (tourism-wise) and I always waited for the chance to visit it!
During the last few years, Cappadocia has become one of the most must-visit destinations. The photographs with the hot-air balloons have filled the instagram accounts, while ever more travel stories pop up on the internet. But the time has come for us to also write our own, special (as always) story!
The itinerary was formed, but something went wrong with the days! Only three days to get to know Cappadocia?! I was overwhelmed with panic, but fortunately we were very lucky and our morning flight was delayed for the afternoon of the same day…And you will say, lucky how? Three days became two! But when you fly with serious airlines things are noooot like that. The company, due to the cancellation, changed our return tickets for 2.5 days later! This way, we had 5 full days in our disposal. Of course our trip had to start with some adventure and surprises (this time for the better)!
After a lot of research, we realized that the best period to travel to Cappadocia is early October (since the equally good period of April had passed). The weather is still nice, there are fewer people and prices at hotels are lower. Everything was ready. We had booked a hot-air balloon ride (the main activity for organizing the trip), made reservations to stay in a Cave Hotel, go horseback riding, rent a car to cover its every nook and cranny and…many more that you will find out below!
Cappadocia is not a city or a village, as most people think, but a vast region that consists of five provinces. From the very first moments we realized that it is a place very different from any other we have seen so far. The volcanic eruption, before millions of years, has created over time a unique landscape. Red valleys, deep gorges and odd geological formations, which look more like a manmade project than a creation of nature, are only some of the elements that one finds in the region.
But the surprise of Cappadocia does not stop there. Because it is nice when you are walking next to the volcanic rocks, but as Nikos rightly sang "When you are looking from above…the land looks like a painting". All the more so, when you are inside a hot-air balloon at 800+ meters high! I don't think we have lived a more beautiful experience until now. And, of course, we were among the lucky ones, as not only did we fly that day, but we rose pretty high up and the ride lasted for over an hour!
From the moment the balloons started to "blow up" until the sun started to rise and we landed, the images we took and the emotions we felt are simply indescribable. The hundreds of colorful balloons that were floating above the unusual landscape were producing exclamations of admiration and a dreamy background for photographs, for both the flyers and the spectators (that gaze at them from the ground)!
Apart from the balloon ride in Cappadocia, you have so much else to do…We visited the open air museums with the orthodox cave churches and the other caves, underground cities and castles carved on rocks. We drank tea in the river, saw the sunset from every valley and "played" with fairies. Also, we rode with horses and ATVs and explored a large part of the region through hiking trails.
"Check out here what you can do in Cappadocia"
For our transportations, we had rented the perfect car. A jeep with which we could plow through every hill and valley! Go everywhere and discover Cappadocia in depth! And we went almost everywhere…not with the jeep we had booked but with a half-destroyed Nissan Micra! Although we were well-read about the Turks' cunning, we fell for it like rookies. But we said, since they gave us such a mess of a car and we want to visit so difficult locations, why ask for the good one and cry if something happens to it?! So, since the situation suited us, we kept it. The mirrors may have been falling, the wheel not turning, the bumper hanging and the dirt not letting us see the road, but we managed to go around the whole of Cappadocia.
We should note here that not all Turks are like that. On the contrary, at every place we visited they welcomed us with joy, especially when they found out we are Greeks! Even though they were not fluent in English, they were trying to help us in every way possible, even using greek words. They all had to share an interesting story with us and to recommend places for food and shopping. In short, wherever we were we felt welcome and safe.
The only circumstance that needs some caution is money exchange. We had been informed that we could exchange money in Cappadocia (they rob you) and that they get paid in Euros € (they rob you even more), but we had acquired Turkish liras from Greece at a very good exchange rate. So, having liras in our pockets we could get whatever we wanted without being robbed! And when I say whatever we wanted, I mean mainly souvenirs and food!
E: You see how I said it this time, huh? Straight up! Not going around and around…And now that I said around and around…N: You remembered the doner? E: You get me! I remembered the doner (our Gyros) that we ate at Avanos, as well as the Pottery Kebab we had in Uchisar. Oh and this Turkish Ravioli (Manti) and the meatballs we ate on a terrace in Göreme, how could I forget them? N: Well, I cannot forget the bean soup, with the hot peppers, and the traditional yiaourtlou (kebab with yogurt sauce). E: Oh my, I could be eating all day and night. N: By the way, our nights were wrapped up with endless baklava (with pistachios, of course), dondurma ice-cream to-go, plenty of local Turasan wine and a hookah as tall as me! E: Thank goodness that we were drinking a lot of tea for digestion and detox (…sure).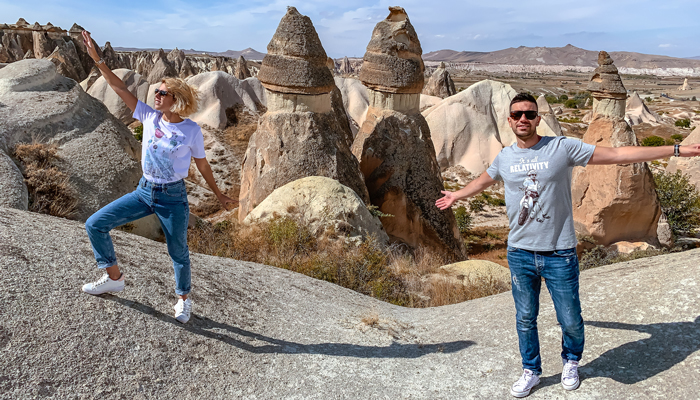 Cappadocia is a place full of attractions, activities and powerful emotions. In order to discover it, you must dedicate for sure 4-5 days! Reaching the end, I am now certain that it is a magical destination, a lifelong dream that materialized, and possibly my favorite trip. N: Before you have to say it yourself, I must say that this time I also left a piece of my heart there and this is why I will definitely take you back there! E: Yaaaay! This time, I reached my goal without any effort! See you soon Cappadocia!
Cappadocia: A child's dream like a hot-air balloon