A few words about Bologna ?️
The title is not random at all, as Bologna is a city living in red! Red buildings (terracotta brick), red paths, red alleys, and blood pleasure also hits red with so much food from its delicious cuisine and entertainment. Visit Bologna in 48 hours!
The city is full of students, who keep it lively, while they fill the shops and squares every moment of the day and, especially, of night. The 100,000 (!) students can feel nothing short of lucky, as they study at the oldest university of the Western world, from which Dante and Copernicus graduated and where the great Umberto Eco taught.

Bologna is not included in the top destinations for foreigners, as it does not have really significant monuments, such as the tower of Pisa or great galleries, like the Ufizzi. Nonetheless, it is one of the three best destinations for Italians, as it is ideal for entertainment, good food and tourist-less quiet!
---
Sites worth seeing ?
1) a) The enormous square (Piazza Maggiore). b) Next to it is the square of Neptune with the homonymous fountain (Piazza del Nettuno), c) while a little down the road we find the academic Galvani Square (Piazza Galvani), where the first University of the western world stands (Archiginnasio). You should definitely devote some time. 
2) Do not miss the chance to visit the huge and beautiful (on the inside) church of San Pietro. 

3) At Bologna's center you will also find the city's two eminent towers, Torre Asinelli & Torre Garisenda. From the former's top your eyes can see as far as 75km (!) in the distance, up to the Adriatic Sea (with a clear atmosphere), while the latter is the "Pisa" of Bologna, due to its sharp incline!
4) You should not miss the wonderful climb up the Santurio della Madonna di San Luca. The ascending, 3.7km-long trail goes through the largest arcade –formed by arches- in the world!.
5) Arcades are everywhere inside the city, covering a network of 40 kilometers! You should cross at least part of it.

6) In Piazza Maggiore you will find Saint Petronius (Basilica di San Petronio), the 5th largest church in the world. What stands out in its interior is the solar clock that –it is said- is responsible for the invention of leap years.
7) Start your shopping at Bologna's Tsimiski Street, aka Via dell' Indipendenza. But your shopping spree will be enriched if you move on to Via Ugo Bassi and Via Rizzoli. If you are looking for traditional clothes and perfumes, prefer Via Massimo d'Azeglio.
8) Street Art Walk!
9) The Rhine River's canal, one of the very few small and hidden canals in Bologna, has four corners, the most famous one being the red window on Via Alessandrini 2. Discover it..
10) If you have a lot of extra time, visit Palazzo Pepoli and the Museum of History.
11) Do not miss the essential tour around the paradise of flavors and quality, namely Via Pescherie Vecchie & Via Drapperie (nexto to Piazza Maggiore).
12) Finally, make sure you take a walk around the Seven Churches of Santo Stefano. Entrance is free, but the persistent lady will urge you to make a small donation (0.50€ or more)!
---
? Read Also 
---
Places to stay in Bologna ?️

Bologna is a small city with just 350,000 residents, yet it has more than 1,000 accommodation sites. Prices are sky-high, with the average price per night (on high season) being 130€.
Savoia Hotel Regency
Hotel Holiday
SavHotel
Hostel We_Bologna
Aemilia Hotel Bologna
---
Transportation in Bologna ?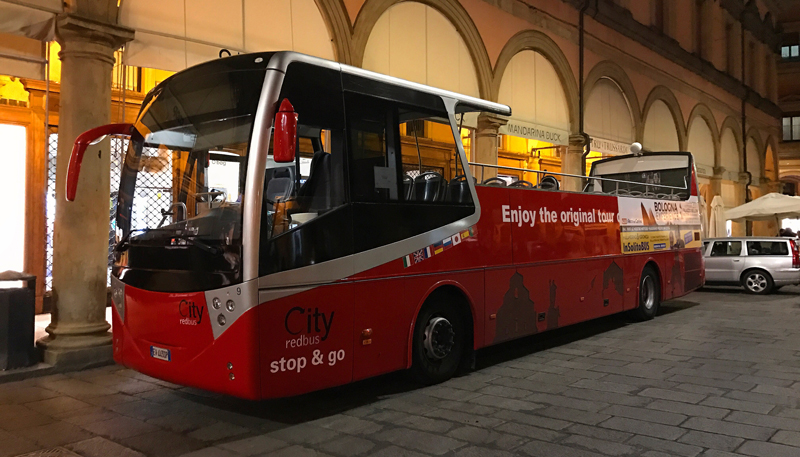 The distances between monuments – attractions are close and you can move comfortably on foot without getting tired. What will wear you out is the ascent -4km- to the San Luca church. For this destination, there is the San Luca express train that can transport you effortlessly, while for –almost- double the money it can also take you on a tour around the city. But you can take the tour by the red Bologna Citytour bus (the night tour is more worthwhile). If you have a car, you should leave it at a parking facility (2.5€/hour – 20€/day) as free parking is non-existent for visitors. It is also prohibited to drive around the city's historic center. Renting a bike is the ideal solution.
---
? Read Also 
---
Places to eat in Bologna ?
Bologna has been labeled as the "fat city", because of the tastiest –to many- cuisine in the world! Many restaurants remain closed during the afternoon or open only at night. Do not leave without having tried an original Bolognese, the tasty Ragu sauce with various kinds of pasta, the unmatched tortellini and tagliatelle, the exquisite mortadella and a sample of the tasty gelato (we say a sample because the portions are pretty small)! Finally, make sure you try the filling Piadina (sandwich).
Osteria dell'Orsa: The city's absolute must! It is famed for its Ragu sauce, offers rich servings, in very low prices and it is always full! (It was recommended by our dear friend Paolo M.)
La baita: Quite the tourist shop, next to Piazza Maggiore, which sells and serves in platters the finest cured meats and cheeses in Italy…at the appropriate cost!
Ristorante Pizzeria Scalinatella: For pizza in the city center with excellent service and good prices.
Osteria Broccaindosso: Tasty food, satisfying portions and good service in a restaurant outside the city center.
Osteria La Fontana: Considerably outside the city center, but it has a variety of flavors, good quality and reasonable prices.
Ca Piadina: For tasty and filling Piadina, at a low cost and good service.
---
Places to have coffee – drinks in Bologna ?
Le Petit Café: For high quality coffee, small space with limited breakfast choices.
Jukebox Cafe: For Cocktails, Burgers and relaxation!
Cafe' de la Paix: For good coffee, drinks and shopping!
Caffe Terzi: For freshly ground coffee and delicious chocolate with a professional appearance, in the city center.
Bravo Caffè: For drinks, Entertainment and live shows.
Drogheria – Food Wine & Spirits: Local bar with good drinks and free buffet (aperitivo).
---
? Διάβασε ακόμη 
---
Useful tips for visiting Bologna ?
If you drive a car, you should know that it is prohibited to drive inside the city's historic center. The dozens of cameras will give you a nice heavy fine!
It is not worth visiting the museum of Archiginnasio.
Entrance is in the Seven Churches of Santo Stefano free, but the persistent lady will urge you to make a small donation (0.50€ or more)!
The city is full of homeless people, while at night many "strange" characters start to appear! Do not walk around alone in places you are not familiar with or that are not adequately lit!
SOS: The view from the church of Santurio della Madonna di San Luca is very limited and not worth paying to go up there!
The city wakes up at night when thousands of students flood the squares and bars and party until late.
For the Torre Asinelli Tower you must issue a ticket with your preferred visit time at the Welcome Bologna store.
Many restaurants close for the afternoon or open only in the evening.
In Saint Petronius it is prohibited to photograph the Solar Clock without having issued a ticket!
So, Bologna in 48 hours.. All in red!
---