The reasons why people like hiking vary. For some, the goal is the view from the top, while for others simply the trip. For some, it is the ground's anomalies, the different psychological and physical challenges, while for others it is the only way to escape the city's noise. It is logical that a great part of tourism depends on excursions, simply because walking is a way of life. Whatever the reason, the only certainty is that you need the necessary equipment for it to remain a pleasant experience. Boots are one of the most important accessories when it comes to hiking and they ensure a smooth journey. They have to be comfortable, ideal for all conditions and terrains. Travelen, as always, searched and discovered the most trustworthy hiking boots..

5) Columbia Omni-tech 
The first shoe we recommend for your mountain excursions looks less like a pair of boots and more like a hiking pair. It is mostly suitable for easy trails and slightly rocky terrain. It is perfect for forest running, as it is extremely light and stable. You can make it part of your daily life, for example when going for a walk in the park on a rainy day, as it is waterproof and very stable.
⚙️ Additional features:
Nonskid sole
Waterproof
For men and women
Special shock-absorbent sole
Leather
4) Under Armour Freek Bozeman 
It is a pair of light boots, perfect for short and long distances. They offer a comfortable, light step and easy movement, while they were created for hikes in the woods, having borrowed many characteristics from hunting boots. Ideal for smooth mountain hikes, as well as rocky ones of average difficulty. Their exterior is made of pig skin leather, so that you do not leave out the factor of their origin. ?
⚙️ Additional features:
For men and women
Very light
Waterproof
Antibacterial coating
Odor-resistant
Hard rubber toes-protection
In-between shock-absorbent sole
---
? Read Also 
---
3) Salewa GTX Hiking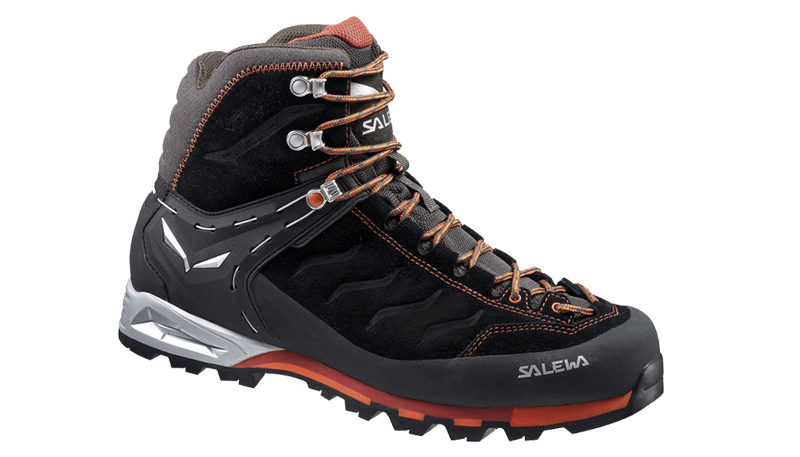 It is a combination of a hiking shoe and an Alpine boot. It is not recommended, under any circumstances, for even ground hiking, as it is quite heavy and stiff. The No1 shoe for off-road, rocky trails offers traction, comfort, safety and protection, even under the most extreme of conditions. It is also suitable for rock-climbing.
⚙️ Additional features:
For men and women
Waterproof
Suitable for climbing
Suitable for snow
2) Salomon Quest 4D GTX 
It is the company's best pair of boots, which has a huge advantage. The ankle adapts to any conditions, without you having to tighten the shoe. Also, you should know that, while wearing it, there are 4 layers separating you from the ground! They are not suitable for short distances, as they are a bit heavy and might tire you out (until they are broken in). Give them some kilometers and uneven ground and they will not let you down.
⚙️ Additional features:
For men and women
Waterproof
Excellent tying system
Rubber toes-protection coverκ
4 layers from the ground
---
? Read Also 
---
1) Asolo TPS 520 
At the top of the list we find Asolo's boots. Made of authentic leather and soft interior, they will quickly become your best friend when you visit the mountains. They protect the feet from uneven ground and they keep on helping in reducing the sense of fatigue throughout the route. They are ideal for trips in Northern countries, as well as for excursions to winter retreats. They are recommended by the most experienced of hikers, while they also have the advantage of keeping the foot dry and warm, under any circumstances. The only thing that might concern you is their price. ?
⚙️ Additional features:
Waterproof
Only for men
Authentic leather
3 layers of anti-shock protection (built inside the outer sole)
Pleasant hikes..