A few words about Bansko
Bansko Tips for Visiting! Bansko is synonymous with skiing… The town makes for an excellent winter excursion, where you can enjoy your favorite sport, as it has one of the best and most organized ski resorts in Europe. "Bulgaria's St. Moritz" is one of the most popular winter destinations, not only for Northern Greece, but for the whole Balkans, with the tourist growth moving in fast pace. What makes Bansko the must winter destination is the combination of relaxation, skiing, luxury amenities and low prices. Even though it is a predominantly winter destination, it offers activities also for the other months. From the ski slopes to the cobbled streets of the old town, Bansko is waiting for you to discover it!
Note: During the winter months, the town is wrapped in a permanent cloud of smoke (due to wood burning).
---
Bansko Activities
Ski
The whole town, one big slope! Next to the word Bansko, we should add the word ski, as it is the main reason for visiting it! With 16 ski tracks, of all levels, and the tallest summit at 2,600 meters, the experience will be unforgettable. If you do not know how to ski, you can learn fast and easy (with an instructor), and if you simply don't want to get cold, prefer one of the resort's eight bars and restaurants.
Spa-Relaxation
The town, apart from the ski facilities, is also famed for the luxurious relaxation and wellness amenities. Most hotels (4-5 stars) offer exceptional options for you to feel invigorated and relaxed, through packages that include massages, Turkish baths, hot tubs, saunas, heated pools and more. Pick the best one!


Old Town
The old town is a great "excursion" from the cosmopolitan area of north Bansko. It is just 15 minutes away from the gondolas and offers many traditional images. At its center you will also find the quaint Holy Trinity Church.
Golf (Pirin)
In a vast lush green area, you can play or learn golf. There are two organized courses, practicing space, as well as the academy! It may be considered a sport for the few, but here you can make your dream come true!
Entertainment
Every winter/Ski destination hosts the respective entertainment establishments. Bansko might not have a plethora of options, but it offers an interesting night life that will keep you awake until the first morning hours!

Ice skating
The ice skating rink is one of the largest in Bulgaria. Of course, it is open only during the winter months, while it stays open until the evening, offering many hours of play to children of all ages.
Rila Monastery
The Rila Monastery is located 93km outside of Bansko. The trip will tire you out a little bit, but both the images (from the stiff slopes) and the wonderful monastery will compensate you. (UNESCO World Heritage Site)
---
Read Also 
---

Snow fight-Sled
From the area of the lifts, you can go up the snowy slope on foot. Over there you will be able to have snow fights or sled down the slope! Caution: Do not move around the center, because skiers go through there!
Hiking in Pirin Mountain
Mount Pirin might be covered in snow during the winter, but in the summer it turns into an endless lush green trail. With 200km of trails and difficulty levels for all ages, mount Pirin will bring you close to nature and clean oxygen! For the more daring among you, we recommend rock-climbing on one of the 20 –difficult- rocks.

Pirin Street
Pirin Street was not named as such at random, as it offers a beautiful view of the Pirin Mountain. It is the oldest street in town, with plenty of cafés-restaurants and hundreds of people crossing it daily. On Pirin Street you will also find many winter and ski equipment stores. Take a walk through it at all hours of the day.
Casinos
The town may be small, yet it hosts many casinos as the Platinum, the Royal Bet Bansko, Casino 21, Gaming Club Flush and Florimont.❗ Our advice: If you visit them, watch the show, the events and have a few drinks. DO NOT play. Gambling is one of the greatest dangers.
---
Accommodation Bansko
Bansko is a small town with just 10,000 residents, yet it has more than 600 accommodation sites! The quality-price ratio is very good, as there are many 3-4 & 5-star hotels that offer quality stay in reasonable prices. During high season, for a double room, you will have to pay 60-150€ per night (including breakfast).
Premier Luxury Mountain Resort: Luxury and enjoyment in one hotel! With reasonable prices and excellent services, it is the best option for accommodation..
Momini Dvori: It is located in the town center and offers affordable stay in a decent, traditional space.
Lucky Bansko: The formerly 4-star (presently 5-star) hotel is a very good choice. It is organized, and offers quality and nice benefits.
Green Wood Hotel & Spa: The hotel is located a bit outside of Bansko, but offers all-inclusive packages in reasonable prices (full board-amenities-stay).
Hotel Amira: Decent accommodation, boutique/modern decoration with quality benefits, in higher prices.
Redenka Holiday Club: Affordable option, with satisfying amenities and pleasant stay. It is located 7km out of town.
---
Read Also 
---
Transportation Bansko
You can get to Bansko by bus from Thessaloniki (duration 2.5 hours & frequent routes) or with your car (duration 2 hours). Inside the town, you can move around by car or on foot, if you are staying in a central location. If you use a car during the winter months you should be particularly careful, as both transportation and parking in central locations are pretty hard. During the winter months, despite the excellent organization and the snow removal from the roads, problems may occur (heavy snowfall). You have to be equipped with snow chains. Finally, you will reach the ski resort by the gondolas (lifts), through a beautiful route that lasts 10-15 minutes.
---
Food Bansko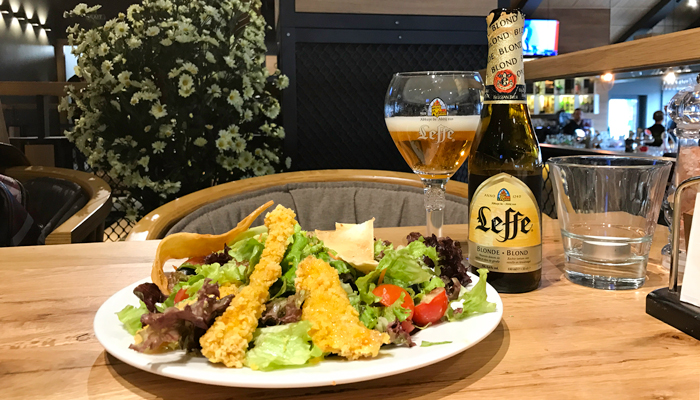 Bansko is a town that will definitely not leave you hungry, as most hotels offer half-board or have excellent restaurants. If you choose to dine outside of the hotel, you will have to keep your eyes open, as there are many dangers. The Mehana that you will come across on every little street is the Bulgarian tavern. The original Mehana used to include dancing and live music. This way, the visitor had the chance to meet the local cuisine and folk culture of the area. Nowadays, it would be best to avoid them, unless someone has recommended them. Finally, for a full two-person meal you will pay 30€ including wine. Important: Fast food stands serve food of bad quality.
Amvrosia: Bansko's culinary jewel offers dishes of immaculate quality, in an elegant and warm space! Visit the town's must-eat restaurant..!
Ginger: It offers many options, in reasonable prices, inside a pleasant and cozy environment. Quality is not something special..
Mehana Momini Dvori: Generous portions, low prices and good quality in a traditional tavern at the town center.
Baryakovan Tavern: Traditional tavern with warm environment and decent –local and non-local- dishes.
Leonardo: Italian restaurant with satisfying quality and well-presented dishes, in high prices.
---
Read Also 
---
Coffee-Drinks Bansko
Nectar Bar: In the delightful and stylish Nectar Bar you can enjoy beers, cocktails, as well as various snacks.
Le Rétro: The best shop in Bansko for you to drink your coffee and eat some quality breakfast, snacks, desserts or a salad (it fits very few people).
Ginger: The most beautiful space in town is perfect for food, drinks, coffee and entertainment with live nights. It is huge!
Jack's House Bansko: Nice Club for dancing and fun until the morning (prefer the bottled drinks).
Happy End Bar: The most well-known café-bar-club in town. (Watch out for drinks charges, they are charged by the volume!)
Family Bansko Coffee & Kids Club: A combination of a play center and café with quality sandwiches and clean atmosphere. Highly recommended to families with children.
Wine Bar 25: For some casual wine, accompanied by a platter, away from the tourist bustle!
---
Useful tips
All shops in town accept euros (€), but they charge you more than the day's rate.
⛔ Avoid the Steak House Tomahawk restaurant. They are unprofessional and rude. ⛔
Accommodation on weekdays is up to 70% cheaper compared to the weekends (during high season).
There are two entrances to the lifts. Prefer the one on the right, it is faster!
Bansko is not only the area close to the lifts. Cross Pirin Street and reach the cobbled center of the old town.
You will see the word Mehana everywhere. It is their equivalent of the tavern. If one of them has not been recommended by someone, then it would be best to avoid it.
It is best to pay with Lev. Make sure you have exchanged your money.
Do not park on central streets, you will get a fine. Prefer the narrow streets, close to the central ones, or private parking spaces.
You will find the best exchange rate at the agency opposite the Mall Bansko.
Many restaurants and shops have the tendency to charge more than the prices written on menus! Keep your eyes open.
During the winter months (high season), do not walk around or park close to the lifts station (gondolas)!

Caution:

The road leading to the town is narrow and Bulgarians tend to overtake dangerously.
During the winter months, you should always be equipped with snow chains.
During months with low visitor rates (May-October) many shops are closed. Also, lots of hotels are up to 70% cheaper!
In the end, all snowy roads lead to Bansko..